The Ceuta papers contain a large number of hints about our author and his role both in Ceuta and Cadiz. Where we have found some background fact, we have added it to the narrative as a footnote but are not yet any closer to credible evidence identifying the author, his orders or any suggestion as to how the papers arrived in Falmouth. Our present lines of enquiry are:
The muster rolls of HMS Antelope which are held at the National Archives.
These show the transport of Henry Wellesley and suite out to Cadiz as ambassador. They also record Captain Ross Donelly joining the Antelope on 4 March, with his servant Law Lyons. He was the former captain of HMS Invincible and is recorded as being invalided from HMS Bulwark back to Portsmouth where he was discharged on arrival on 28 March.

Below his name, and joining the ship on 13 March is our 'best guess' at the author. A Lt John Donaldson is shown as 'Invalided at Cadiz belonging to HMS Atlas for a passage'. He was discharged on 28 March to HMS Gladiator, a convalescence ship. Below his name are seven other ranks who were discharged to Haslar and were presumably injured. One, a Joseph Blake, a Lieutenant from HMS Zealous may be the Lt Blake who is recorded as dying in 1810.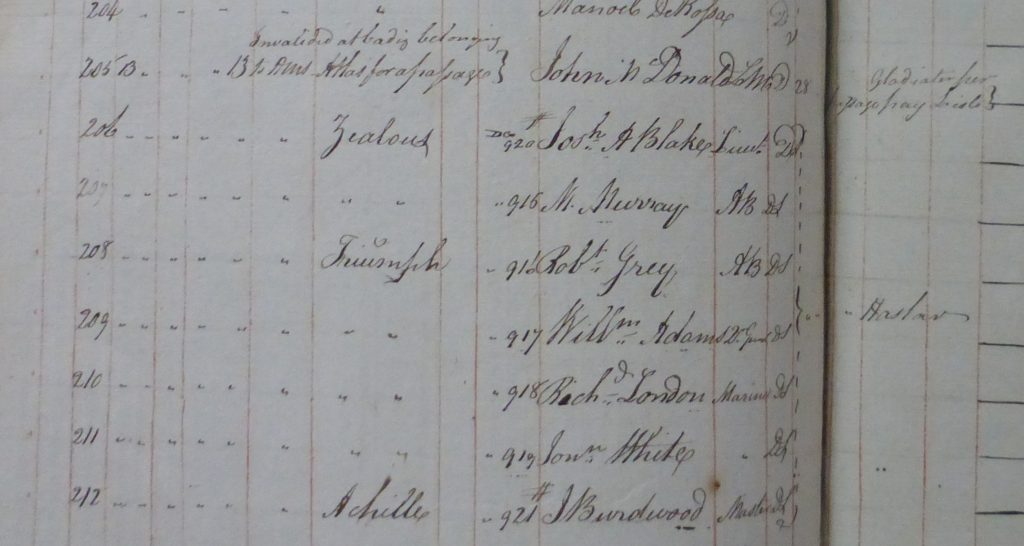 We are going to check the muster rolls for HMS Atlas and HMS Gannet (see below) to see if we can find any mention of Lt Donaldson there, or any explanation of his possible role in surveying Ceuta.
Are we right about Lt Donaldson?
A Lt John Donaldson Boswall was born in Co. Fife in 1790 as John Donaldson. He joined the Navy as a First Class Volunteer in 1799 and worked his way up the ranks, serving as a Midshipman on HMS Polyphemus 64 at the battle of Copenhagen. After serving in the West Indies and experiencing action, in July 1808 he was appointed First Lieutenant on HMS Gannet brig, off the coast of France. There is then a gap until, in November 1810, when he is recorded as serving on HMS Implacable 'in the defence of Cadiz'.
He changed his name to John Donaldson Boswall in 1812, presumably as part of some inheritance, and went on to make Post Captain in 1822 before retiring in 1846, aged 56. He then became a Deputy Lieutenant and Magistrate for Mid-Lothian.
What this does not give us is any connection between Lt Donaldson and Cadiz in March 1810, nor any connection with Falmouth. So perhaps his name is a red herring.
Other threads
Our author was of sufficiently good standing to dine with the Governor of Ceuta. This suggests that he was either 'a gentleman', or had orders which gave him an introduction and thus importance. What might those orders have been and who might have issued them?
Our author expresses concern 'of course' about the Zaragosa during the Cadiz storm. We know that the Saragossa, McKessock, was a Danish prize operating as a merchant vessel and that she was in Cadiz 'bound to Lima' (Lloyd's List 30 March 1810). The 'of course' is tantalising: what was our author's connection with the Saragossa (or Zaragosa)?
On arrival in Cadiz our author 'avoided Quarantine … by declaring we brought letters of importance to the Commander in Chief which was true as far as By order of Admiral Viners (to whom an hour before delivered them) but not in the way they understood it …' What was his mission and can we find any trace of any instruction from a senior officer such as Admiral Viners (not yet traced) or Admiral Purvis, the Port Admiral in Cadiz?