The story of how seven Cornishmen sailed to Australia in their 37ft long, 16 ton lugger, the Mystery, in 1854/5 has been recounted elsewhere.1 Ocean sailor Pete Goss even re-created their voyage in Spirit of the Mystery in 2008.2 However, no one seems to have found (or published) this entry from the National Archives3 which we tripped over while researching other Penzance vessels.
Legislation at the time required any ship sailing to a foreign port to submit a copy of its crew list so that the government could identify men suitable for potential naval service in the event of war. The crew of the Mystery had to follow the same process, simply writing 'Melbourne' as their destination port. There cannot have been many vessels leaving Penzance with such ambitions: most of the other entries we came across that year are for places like Cork, Venice or, the most, New York.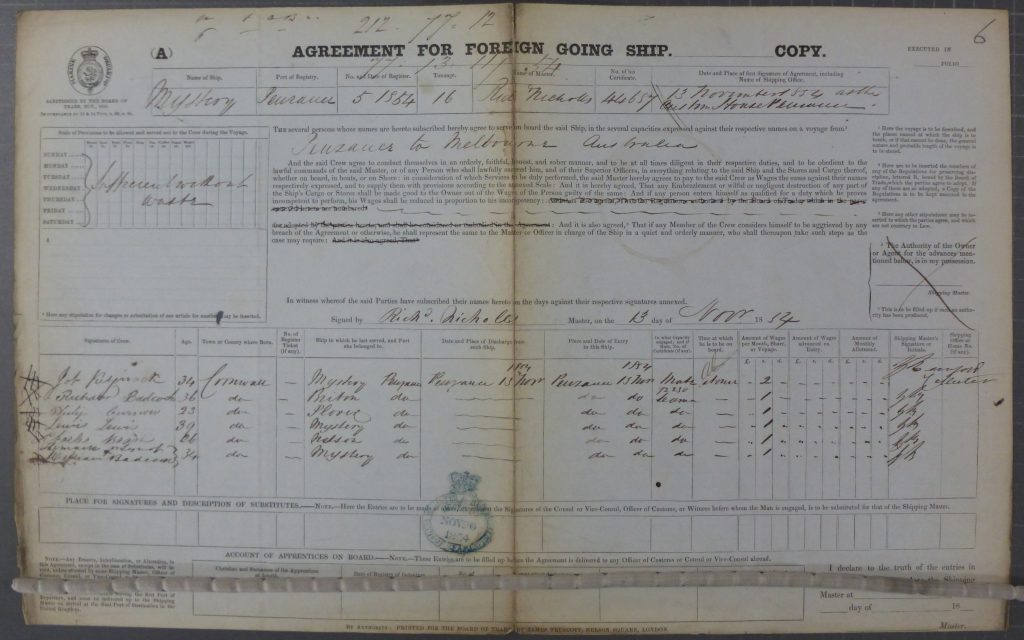 The seven men were:
Richard Nicholls (Master)
Job Kelynack (aged 34) formerly of Mystery
Richard Badcock (36) formerly of the Briton
Philip Curnow (Matthews) (23) formerly of the Plover
Lewis Lewis (39) formerly of the Mystery
Charles Boase (26) formerly of the Nelson
William Badcock (34) formerly of the Mystery
Lewis and Matthews remained in Australia but the other five eventually returned to Cornwall. The Mystery remained in Australia, eventually being wrecked.
Fortunately, a picture of Melbourne harbour of around 1862 shows the Mystery under full sail (look in the bottom left hand corner)