The aftermath of the Battle of Trafalgar was a time that stretched already exhausted men and ships to the limit. As Collingwood reported 'The fleet was now in a very perilous situation; many dismasted; all shattered; in thirteen fathoms water, off the shoals of Trafalgar … few of the Ships had an anchor to let go, their cables being shot.' It was in this situation that a storm hit the fleet, scattering it and its prizes.
Eventually, Collingwood restored order and started sending the ships home for repair. Six left for home on the 19 November, amongst them, the Temeraire and the Leviathan which had been with Nelson in the Caribbean. This letter gave Captain Bayntum his orders: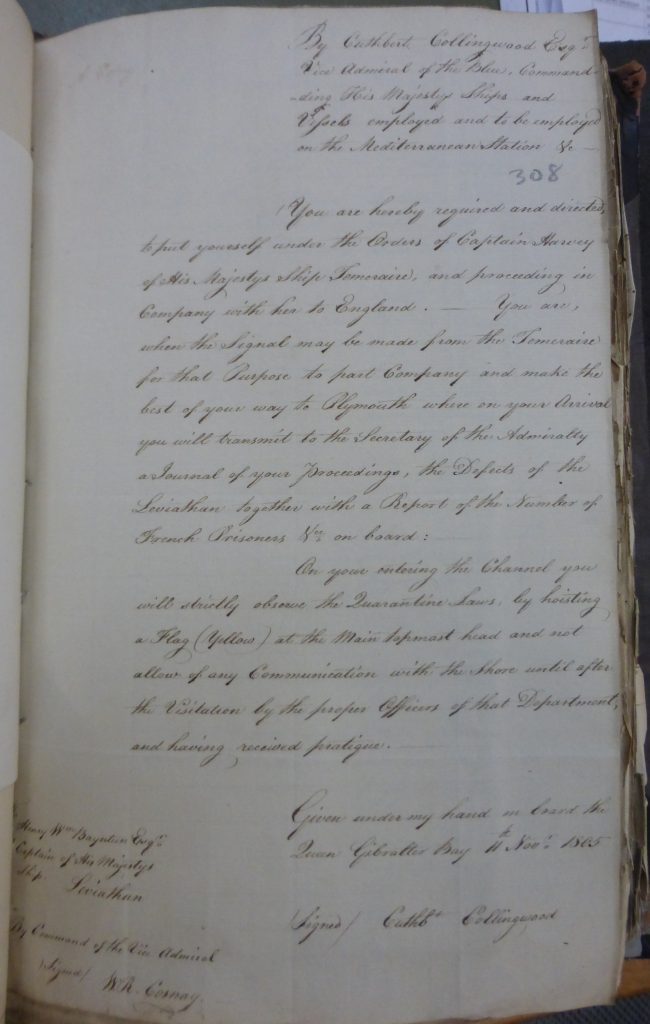 By Cuthbert Collingwood Esq, Vice Admiral of the Blue, Commanding His Majesty's Ships and Vessels employed and to be employed on the Mediterranean Station &c

You are hereby required and directed to put yourself under the Orders of Captain Harvey of His Majestys Ship Temeraire, and proceeding in Company with her to England. – You are, when the Signal may be made from the Temeraire for that Purpose to part Company and make the best of your way to Plymouth where on your Arrival you will transmit to the Secretary of the Admiralty a Journal of your Proceedings, the Defects of the Leviathan together with a Report of the Number of French Prisoners &c on board:

On your entering the Channel you will strictly observe the Quarantine Laws, by hoisting a Flag (Yellow) at the Main topmast head and not allow of any Communication with the Shore until after the Visitation by the proper Officers of that Department, and having received pratique.

Given under my hand on board the Queen Gibraltar Bay 11th Nov 1805
Signed Cutbt Collingwood
To Henry Wm Bayntum Esq Captain of His Majesty's Ship Leviathan 
By Command of the Vice Admiral Signed W.R. Cornay

National Archives ADM 1/1451/308
It is touching to see that the Temeraire was to escort the Leviathan rather than the other way around. Perhaps the second most famous ship to be at the battle, the 'Fighting' Temeraire 98 had had 47 sailors killed, the equal highest number of losses and had taken on some pretty significant odds in rescuing Victory in the early stages of the melee. She must have been a right mess. Leviathan 74, on the other hand had attacked the mighty Santissima Trinidad 130 and taken the San Augustino 74, losing only 4 men and with 22 wounded.