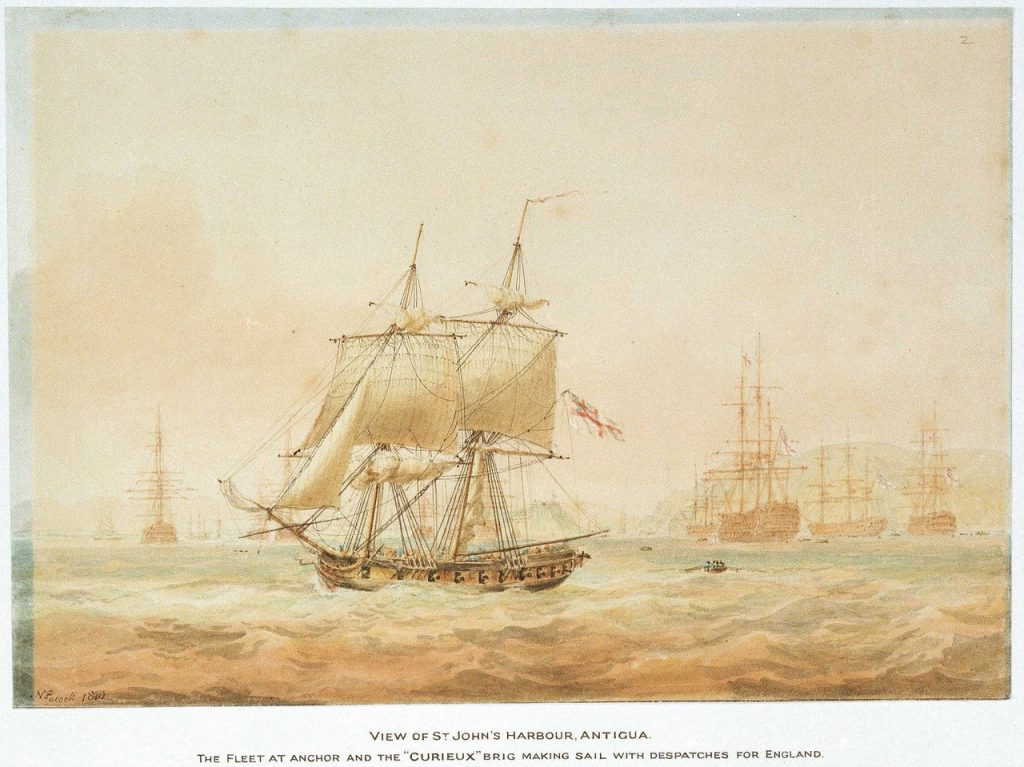 Having been captured from the French in February 1804, HMS Curieux had been an active member of Hood's squadron. The unexpected arrival of the French and Spanish Combined Fleet under Villeneuve, closely followed by Nelson and his fleet of 9 ships of the line,1 changed the focus of the squadron. The two fleets played cat-and-mouse around the W Indies, never meeting, despite Nelson's desire so to do.
Villeneuve had anchored off Martinique and on 2 June was engaged in re-taking Diamond Rock. Meanwhile, Nelson was arriving at Barbados. HMS Curieux was swiftly involved. As John Terraine puts it:
On 5 June the fleet weighed, [in Barbados] and made sail southward. The next day the brig Curieux (captured from the French in 1804) spoke an American merchantman who said he had been boarded a few days before off Grenada by a French fleet standing towards Trinidad. He was obviously lying …

[On 7 June off Trinidad] Nelson anchored for the night, and at seven o'clock the next morning he was away again, heading north. On that day more news reached him, some true, some false as ever. From Captain Maurice he learned of the capture of Diamond Rock, and that the Combined Fleet [of the French and Spanish] had still been at Martinique on 4 June; so far so good. But from the same source (informed by Commodore Cosmao of the Pluton commanding the French expedition at Diamond Rock; no doubt trying to embroider his rather ragged victory with a few useful deceits) he also learned that Gourdon had joined Villeneuve from Ferrol, bringing six French and eight Spanish ships of the line with him. If true, that could have been distinctly bad news, but Nelson was not perturbed …

This was not all: Maurice also informed Nelson that the Combined Fleet was to sail on the evening of 4 June 'for an attack on Grenada and Dominica'. Since Grenada lies to the south-south-west of Martinique and Dominica to the north-north-west, this information, in turn, must have taken some digesting.

Trafalgar, John Terraine, pub SIdgewick & Jackson
Nelson was taken in and headed for Trinidad which he found empty. Speedily turning around, he headed north again, for Antigua.
At sunset on 12 June, just two days after Villeneuve's departure from the West Indies, Nelson anchored at St John's. At eight o'clock that evening he sent off the Curieux to England, to bring the Admiralty all the latest information that he had of the Combined Fleet's strength and movements.

Trafalgar, John Terraine, pub Sidgewick & Jackson
HMS Curieux, under Captain Bettesworth set off in pursuit:
On her passage home, the Curieux passed the French on June 19th – 17 sail of the line – and England was ablaze with expectation that Nelson would catch up with them and give the French a sound drubbing. However, as we now know Nelson and his fleet failed to come up with Villeneuve, with quite scathing rebukes from some quarters.
[The Curieux] arrived in Plymouth on 7 July, with even more comprehensive intelligence than Nelson had possessed: she had sighted and shadowed the Combined Fleet. The sighting had taken place on 19 June, some 900 miles north-north-east of Antigua, and the shadowing had established that Villeneuve was still on a northerly course [not heading for Cadiz but more likely for the Bay of Biscay].

Trafalgar, John Terraine, pub Sidgewick & Jackson
On his return to England, with Nelson's dispatches, Captain Bettesworth was made 'Post,' and had to relinquish command of the Curieux, which was placed in the hands of the shipwrights at Plymouth between July 17th, and October 17th, 1805.
The rest was down to Nelson as he headed first for Cadiz, then for England, and finally for Trafalgar.