Between 1766 and 1778, some 25 Swan Class sloops were built for the Royal Navy.1 One of the last of these was HM Sloop Fairy, launched at Sheerness in 1778. She was a modest warship of 300 tons builder's measure; 97 ft. in length on the gun deck – 79 ft. on the keel; 27 ft. beam, and 13 ft. depth under the main deck. Drawing 7 ft. for'd and 11 ft. aft, she was armed with 16 x 6-pounders and 14 swivels, and had an authorised compliment of 100 men.
In January 1781, under the command of Commander J. Browne, the Fairy was captured by a 32 gun French privateer, having got too close to that superior vessel in trying to identify her. At that juncture of the war private signals had not been issued to Plymouth cruisers. The French held her for only a few days before the Fairy was re-captured by HMS Valiant (74) – possibly on her way back to a French prize port. She is described as a Three Masted, Quarterdeck Sloop. Later rebuilt in Portsmouth 1790, she was finally broken up there in 1811.2
The rig of HM Sloops of War varied. They could be two masted brigs or snows, three masted ship rigged, or an early form of barque – square rigged on the fore and main with a lateen mizzen sail or gaff spanker. H.S. Lecky, in volume three of The King's Ships, includes a lithograph depicting her as a brig.
However, the next Fairy, launched in 1812, was a brig, but Lecky pictures her as a ship.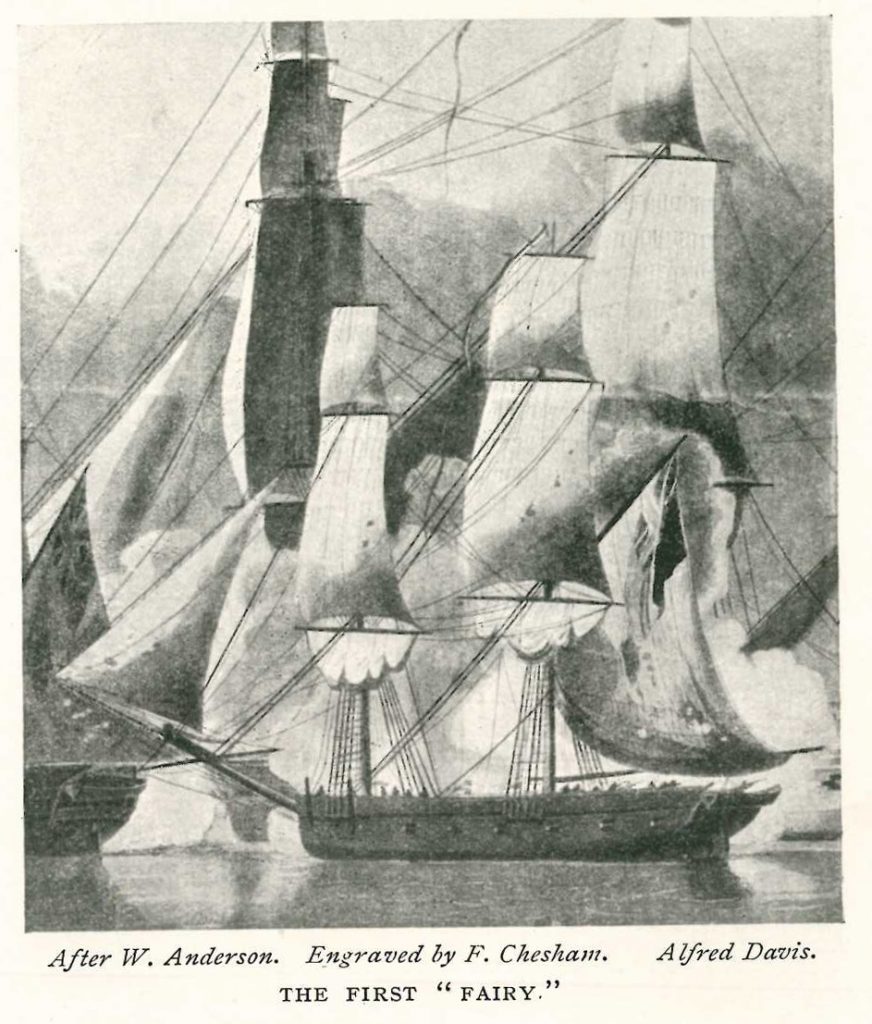 I suggest that these ship portraits were interchanged by mistake. Our Fairy was definitely 'ship' rigged she is defined in the Navy List as 'Ship Rigged'. Entries in her log books indicate that she had three masts, with fore and main courses (as they would be called in the next century), a Cro'jack yard on the mizzen, and fore, main and mizzen tops'ls and t'gallants. Her top and t'gallant masts and yards were continually being 'sent down' in heavy weather at sea or when moored in an uncomfortable swell, and just as promptly sent up again when conditions improved and full sail was required. For the chase, she set studding sails.
At the height of the American War of Independence there were 98 ship rigged sloops and 11 brigs in commission, but by 1786 after the Treaty of Versailles the number had been reduced to 45 ships and 6 brigs.3
Fairy had just returned to Plymouth from Newfoundland having been on convoy duty under command of Captain William Yeo. On December 31st 1782, Capt William Thomas, a Cornishman born and bred, was appointed to succeed Yeo as the Commander of the Fairy. His previous command had been HM Sloop Hope 14 guns, 125 crew, patrolling on the coast of Georgia, where she sprung a leak and sank off Savannah,· the crew being saved. Thomas's home was in Tregony, some miles to the east of the upper reaches of the Fal Estuary.
After making a very short sortie with Fairy in February 1783 – down to Newlyn and the Carrack Roads Falmouth – she was berthed in the Hamoaze for long spell. Although only four years old she appears to have been in a sorry state, and needing a major refit.
On attaining command, Capt. Thomas requested the Secretary of the Admiralty for instructions and orders for making reprisals against Powers at War and 'Instructions relative to contraband goods detained in neutral bottoms'. These particular 'contraband goods' being principally materials of war and provisions, the property of the French enemy or sympathetic Americans and other foreign powers, rather than smuggled goods per se.
Fairy's duties were to patrol the waters of the Channel and Western Approaches, giving protection and convoy to British merchant shipping; intercept and capture enemy privateers or small warships; while carrying out regular anti-smuggling sweeps against the Cornish smugglers.4
This latter element was to be a significant part of the Fairy's duties, and it was not an envious task for a deep-keeled Naval craft. A three or four year term under Admiralty commission, on patrol and putting down the 'Pernicious Trade' was an arduous service, especially off the dangerous coast of the Devon and Cornish Peninsula. However, the Government needed all the revenue it could raise to pay for the American war, and import duties were one of their main sources of income. The Admiralty (urged by the Government) were determined to take the smugglers to task and eliminate clandestine 'duty free' trade in order to maximize revenue returns.
For vessels like the Fairy there were only a few safe havens on which they could rely for shelter in the south-west. Plymouth and Falmouth were the two most suitable, but down through the ages there had been Naval prejudice against the latter, and Plymouth was well to the leeward of her patrol area. The Helford Estuary, although famous as a berth for the clandestine French Man O' War in Daphne Du Maurier's novel Frenchman's Creek, was an awkward anchorage and too shallow. More frequently used was Carrick Road by Falmouth and Gwavas Lake, off Newlyn, which was a safe anchorage in normal prevailing weather conditions (westerlies or even south-westerlies), but treacherous indeed when a wind of any strength was in the south or south-easterly quarter. For Naval Ships. The waters off the Southwest of England, exposed to the Atlantic swell, were not the most comfortable for regular duty. But for quite other reasons during this period the inhabitants of the Cornish peninsular also did not feel particularly secure.