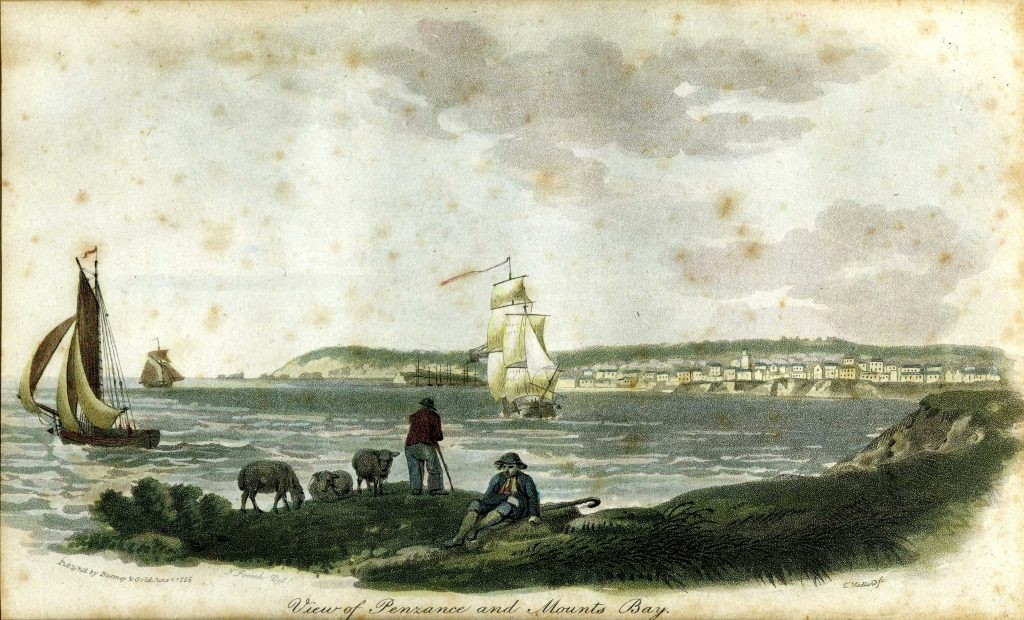 The Dunkin brothers, John (born about 1750) and James (born about 1753) were contemporaries of Harry Carter of Prussia's Cove and familiar names in accounts of Penzance in the late C18.
They started out as a carpenter and a wheelwright but, following John's marriage to Elizabeth Ellis in 1775, they gained connections to the Ellis family and became merchants and shipowners of Penzance. This, inevitably meant involvement in privateering and smuggling. James never married.
In January 1781 the Dunkin brothers joined with the Carter family and Richard Hosking (captain) in commissioning the building of the Active a 50-60 ton cutter. They replaced her later that year with the Phoenix, a lugger of 150 tons captained by Ralph Dewen. This was also jointly owned, involving John Carter, John Dunkin and Moses Symons. Sadly, the Phoenix was sunk in December 1781 following a joint attack with the Shaftesbury on the Black Prince, privateer from Dunkirk, an event described in detail in Harry Carter's autobiography.
The Phoenix was replaced in February 1782 with the Resolution, a 140 ton cutter, jointly owned by James Dunkin, Charles Carter and Moses Symons, and commanded by Davey. She also obtained letters of marque.
In 1783, John moved from St Erth to Penzance suggesting he was now committed to his new career.
Charlotte McKenzie has tracked down eleven ships in which the Dunkins had a share between 1786 and 1791: the Adventure (brigantine), Betsey (brigantine), Dolphin (lugger), Friendship (brigantine), George (ship), Hope (brigantine), Industry (sloop), Liberty (sloop), Lord Hood (brigantine), Nancy (brigantine) and Penzance (sloop).
The largest of these was the George which travelled across the Atlantic from Carolina, arriving in 1778. In October 1788, she was involved in helping Harry Carter to escape after the Cawsand incident, being captained by Ralph Dewen who had been rescued by Harry after the sinking of the Phoenix.
A turning point for the two brothers was the Isles of Scilly event in August 1791 which Charlotte covers in her Troze article on the Dunkins. James Dunkin had sailed the Liberty to join the Friendship in Scilly but, following the death of two revenue men, James (then aged about 38) escaped and became a fugitive for the rest of his life.
By 1792, perhaps in response to this event, and perhaps giving up on direct involvement in smuggling, John Dunkin invested in mining but ran into financial problems in 1795.
By 1799 John was based in London and became a distiller. He fared no better here and was declared bankrupt in 1804, dying in a 'madhouse' in January 1814. In his latter days he was aided by a mysterious James William Darwin who died in 1817 and is suspected of having been his brother James, living under pseudonym.
See Charlotte MacKenzie's Troze article for more details on the Dunkins.