During the summer of 1779 there was a great fear of invasion from France. The whole Channel coast was in alarm, and hasty anti­-invasion preparations were in hand. Such alarm attracted declarations of loyalty to the Crown, and Cornwall was not lacking in this respect. Following a county meeting a loyal address dated 12th August, was drawn up by the Cornish gentry and magistrates, and signed by Lords Edgcombe and Vyvyan amongst others. This address was sent to His Majesty humbly offering on behalf of his loyal subjects:
.. . the utmost exertion of our lives and fortunes in defence of your Majesty's Royal person, at a juncture when the combined powers of the house of Bourbon have with unexampled perfidy, and without any just foundation, commenced hostilities against these your Majesty's realms.

Sherborne Mercury, 30th August 1799
The ink on this loyal address was hardly dry before a secondary threat arose, in the form of a threatened assault from a combined fleet of French and Spanish Men O' War. Larger than any that had been seen since the Armada in the 16th Century, its appearance off Mount's Bay was recorded in the private diary of William Williams , a contemporary Newlyn fisherman:
On August 15th, on a Sunday, a large fleet of French and Spanish Ships of War off the Lizard and further West, plainly to be seen from this or the next town, later reported to be sixty sail of the line and thirty-five 'frickets' [frigates] besides cutters, were on the coast until the 18th having taken the Ardent of some 64 guns. But by good Providence of Ye Almighty , a strong gale of easterly wind, striking with abundance of rain, thunder and lightning, they departed or hauled off the coast. It was also reported that the guns of Carngwavas [near Newlyn], Penzance Battery and the Mount were fired.

Remarkable occurences – journal of William Williams, Morrab Library, Penzance
Of this threat from the combined fleet, the Sherborne Mercury of 23rd August reported that:
As soon as the Tiners in the neighbourhood of Falmouth were acquainted with the appearance of the enemy's fleet off that port, about two thousand of them came into Falmouth, under their [mine] Captains, requesting they might have arms to defend to the last drop of their blood, their king and country, promising that a thousand more would come in the next morning and three thousand more in two days, with the same resolution; finding the enemy not attempting to land, they returned in the utmost regularity , declaring, if the fleet attempts Plymouth, they would 'One and All ' assist in defending it.

Sherborne Mercury, 23rd August 1799
The threat from the enemy was real enough, but so was that of civil unrest, and the Cornish local authorities were in all probability as scared of arming the tinners as they were of an enemy invasion.
The news that 'a great Number of Ships, supposed to be the combined Fleets of France and Spain, were seen off Plymouth Harbour on Wednesday morning last', [the 18th] was published in Lloyd's List of Friday the 20th. No landing was ever attempted at Plymouth, but while they were off that port the Ardent a 64 gun ship, was taken on the 17th. Little was made of this capture and on the following Tuesday Lloyd's List only printed a brief paragraph – 'Plymouth, 20th Aug. The Enemy's Fleet has disappeared since last Thursday Evening, when they were standing to the Southward. Wind fresh at East'.
Before the easterly gale had driven off the enemy, Sir Charles Hardy with his English Fleet was imminently expected from the West Indies, and it was thought, on 23rd August that he would be outward of the French and Spanish fleets that had been reported South of Scilly and an engagement was certainly thought to have been a strong possibility should they have met-up. They never did.
The fear of invasion receded with the vanishing enemy fleet, but a small engagement in Mounts Bay in December caused almost as much local consternation. Occurring just after Christmas, this incident has perhaps a greater bearing on our story and highlights the perceived need for coastal batteries – even at insignificant out of the way places.
Among the Carter family history documents deposited in the Truro Record Office is this account given by an old lady of 80 in the year before her death in 1897. Amongst her memories of her early life she recalls being told of an incident occurring during the war with France:
My grandmother showed me the ball when I was a little girl. During the French war a French and an English ship were fighting in Mounts Bay. At the time it was feared the French would land. My Uncle Francis Carter of Rinsey, [Aged two plus, son of Francis], ran to the cliffs to see the fight.1 My Grandmother ran after him to bring him back, as the French were sometimes firing towards the shore, and the balls were falling thick. One of the balls fell in the court in front of grandfather's house.
'Grandfather 's house' was that of John Carter, the celebrated King of Prussia, at Porthleah.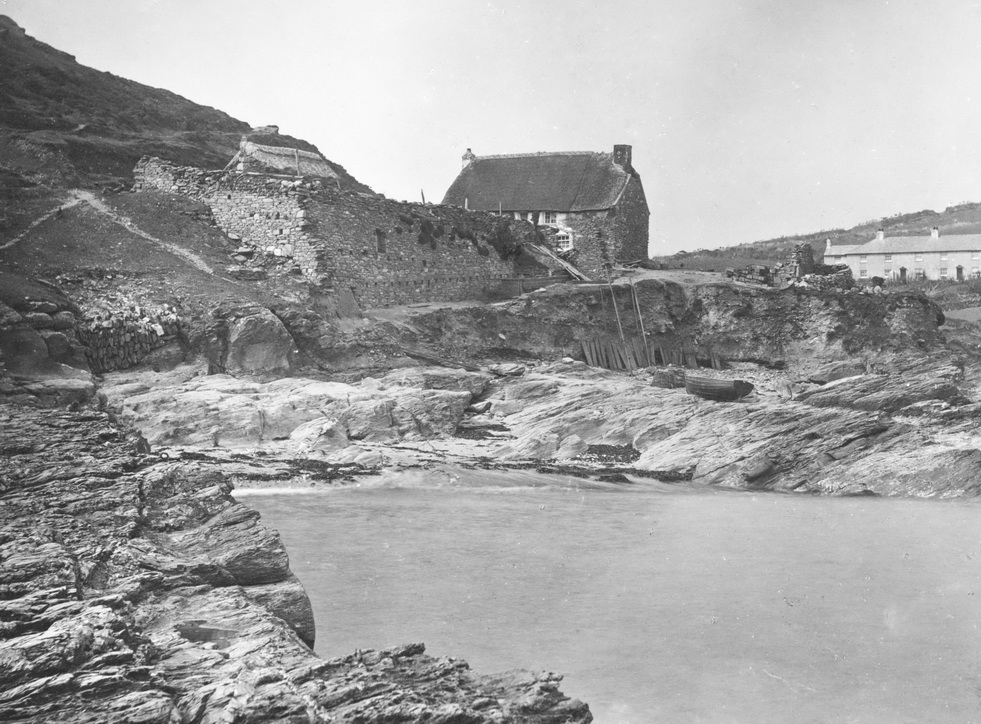 Another supposed version of this incident is given by one John Nicol, 'Mariner,' in his diaries – published over 40 years later.2 He was at the time serving in HM Frigate Surprise, of 28 guns, under the command of Captain Samuel Reeve. Nicol was by trade a cooper and on board ship he was familiarly known as 'Bung'. Superficially Nichol appears to have had a quite phenomenal recall of his experiences, but there are glaring inconsistencies. Of this particular incident Nicol later wrote:
We were ourselves chased into Mounts Bay on the coast of Cornwall by a French Sixty Four. We ran close inshore (under St Michael's Mount) and were covered by the old fort which, I believe had not fired a ball since before the time of Oliver Cromwell , but it did its duty nobly, all night the Frenchman keeping up his fire, the fort and Surprise returning it. When day dawned he sheered off, and we only suffered a little in our rigging. The only blood that was shed on our side, an old fogie of the fort who was shot by his own gun.
Now neither of the above accounts date this incident, but the date is established in correspondence from George Blewett below, while the man killed and described by Nicol as 'an old fogie', proved to be a young mariner named Martin Mathews. Martin was killed by the bursting of one of the 'Mount' cannon. He was only 19, when he lost his life, and his gravestone, bears the lines:
… time cuts me down my glass is run death gives the blow and I am gone

St Michael's Mount guide
The presence of the Surprise, in western waters at this time was corroborated by both Lloyd's List and the Sherborne Mercury, newspapers. Lloyd's List of Friday December 10th 1779, reported the arrival of the Crescent Man of War, and the Surprise, at Plymouth on the 5th, from Newfoundland. They had been convoy escorts to the returning Newfoundland fisheries fleet, and over the next two weeks some 63 Newfoundland traders were reported as having arrived at Dartmouth (34) and Pool (22), and other West of England ports. While on December 13th 1779, the Sherborne Mercury reported that a further 21 sail of ships had arrived home from Newfoundland, under convoy by HMS Surprise Frigate.
A couple of weeks later Lloyd 's List reported the Surprise, as sailing from Plymouth on undisclosed duties. This same edition also reported two privateers Black Prince and Black Princess, as having cleared Dunkirk on 'Tuesday last' (21st Dec.?). Their Dover correspondent adding that they were 'certainly destined for the North Sea, as they steered N.E. and by E. when they left the Land'. North Sea my eye. In their next edition (Friday 31st), they reported that, 'The Betsey, Button, from Swansea, is arrived at Penzance, after being taken and ransomed by the Black Prince Privateer for 250£'. This Black Prince proved to be a very slippery customer, as she had already been very active off the Cornish coast earlier in the year:
Penzance, July 17. – Yesterday a cutter was seen from Cape Cornwall taking two sloops and a brig; one of the sloops was ransomed for 73£ which is now in our pier. The privateer is called the Black Prince, but it is in reality an Irish wherry – the Captain calls himself in the ransom bill, Stephen Merchant, but his real name is Luke Ryan.3 We have no ships of war or cruizers on the coast. This makes the third privateer that had cruised between the Land's End and Cape Cornwall, within this month, and will entirely stop the trade from both channels.

Sherborne Mercury, 26th July 1779
This report was followed a couple of weeks later by another from Padstow dated July 25th:
On Saturday evening [23rd] there came in here three sloops, coal laden, which had been taken arid ransomed off our harbour's mouth by a cutter, called the Black Prince, of Boston; and this day we have an authentic account of the Union being also taken and ransomed for 200£. It is said there were eleven ransomers on board the cutter. She is known to be a smuggling cutter, and carried on a constant illicit trade on this coast, the master and men being all well known to those who were taken. She mounts 16 four-pounders, and now lies off and on the eastward of this port.'
There was a further similar report in September, but the Black Prince then disappeared from the news.
The letter written by George Blewett, a prominent local merchant, Lord St. Leven's agent, and chief tenant of the small township on St. Michael's Mount, calls us back to our immediate storyline. This throws a different light on the incident off St. Michael's Mount.
Addressed to the RN Regulating Officer at Falmouth (Capt Baines of the Impress service), George Blewett stated:
Sir, The present which I have caused to be sent you express will inform you that the Black Prince Privateer and another Cutter Privateer are now in this Bay & have taken & ransom's several vessels– The Black Prince was near to the Mount this two hour past in chase of a large Brig that the shots from the Mount went over the privateer by which means she sheared off and the vessel is saved. Unless some speedy method is taken them Privateers will pick up every vessel that comes round the Land End or Lizard – I doubt not but when they have made a havoc in this Bay they'll proceed to the old station in the North Channell – I recommend a serious attention to this matter & am with great respect Sir
Your Most Obed Serv't, Geo Blewett
Marazion, Monday Morning 9 O'Clock.

National Archives ADM 1/2392
This 'Monday Morning,' was December 27th 1799, and despite Nicol's colourful account, there is no possibility of the brig concerned in this engagement being the Surprise. Blewett's letter was not received by her captain until later that afternoon, when the Surprise was still at anchor in Falmouth roads. Having first been received by Capt Baines, it was passed on to Capt Reeve of Surprise for appropriate action. Reeve, acting under direct orders from Admiral Gambier, had just returned from Penzance with two vessels under his protection. These were two of the regular Cornish tin-ships, Mary, Hocking, and Phoenix, Edwards, which with four or five others were constantly employed conveying tin-ingots from the Cornish coinage­ halls to the Thames. The Surprise and her charges had sailed to Falmouth only a couple of days earlier, so the Black Prince and her consort had just missed two potentially valuable prizes.
A postscript to the above letter, covered the explosion of the cannon on the Mount, was penned by Blewett himself – presuming that the main text had been dictated to a clerk:
A cutter supposed to be a privateer near Cudden Point chased a Brig towards the shore, The Mount people perceiving, fired on her which was probably the cause of her leaving off the chase, which she did. But a sad accident happened among themselves, for somehow a man being killed with one of the cannon and another's arm shot off or lost.
George Blewett's letter to Captain Baines, having been passed to Captain Reeves during the afternoon of the 2nd, he sailed later that same evening in the hopes of finding the privateers still on the coast in Mount's Bay. The Captain's log of the Surprise Tuesday 28th December4 reads:
Fresh Gales and Cloudy in Falmouth harbour. 10 o'clock made sail, at 11 saw 3 flashes either guns or lightening in NW. Lizard Light NW 2 leagues. At 1 a.m. saw 2 sail to westward, beat to quarters. Clear'd ship. Wore and stood towards them. At 3 saw four to five sail a mile and half to two miles on the lee bow, two of them large ships laying-to with their heads inshore, having the appearance of large foreign Frigates which we passed at about a half mile distant, the other being further from us could not be obs'd so particularly. A further reason for believing them also to be the enemy is that three of the same description were seen the day before off this port. At 5 shortened sail and beat to St Michael's Mount N N E one mile, at 6 sent in ye cutter with an officer inshore to enquire of any sighting of these vessels but without success. (Sent to Customs Penzance to ask them to send a man to Lands End to look out). The cutter returned with a pilot, till noon, standing off and on in Mounts Bay.

National Archives ADM 51/950
At 4 p.m. on the afternoon of 28th, Captain Reeve made sail again and left Mounts Bay. At 5 pm he 'spoke' HMS Resolution, then four miles distant (presumably by signal flags), and at 8 pm again came to anchor in Carrick Roads, 'fresh gales and cloudy'.
Reeve duly made his report on this excursion to the Lords of the Admiralty. Annotated on the bottom corner of this, in Secretary to the Admiralty, Philip Stephen's scrawled handwriting is the almost indecipherable substance of their Lordships' reply:
6th January. Answer & let it be known if he can take steps to enable him to identify the ships or ship he saw were enemy or not.
Note that the Lords of the Admiralty show hardly any interest or concern about the presence of enemy privateers in Mount's Bay. They were more concerned about the enemy warships who were all long gone by then.
That a 'Large Brig' was most certainly chased close to the Mount, under the protection of the Mount Battery and as a consequence survived, was a factual event and is beyond dispute even though her identity has not been determined.
This diversion forgotten, Surprise resumed her convoy protection duties, but was not reported as having sailed from Falmouth until January 6th. Meanwhile the roving privateers were left to continue harassing the coastal trade. George Blewett's prediction that the Black Prince and her consort would 'proceed to the old station in the North Channell', proved only too true, as Lloyd's List of Friday January 7th 1780, contained two further disturbing reports:
Milford, January 1. – On the 31s t Ult. Arrived a Brigantine, Name not known, who was taken the 29th off Cape Cornwall, by the Black Prince, and Black Princess, and ransomed for 500 guineas; two Masters who they had taken, came in with her, who informed me, they had taken, when they left them, 16 Sail, 10 they sent for France; the Betsey of Whitehaven , and 1 more of same Place, both from Dublin for London, with Provisions, and the Prince William, Saunders, from London for Dublin, Peter and John, Forestall, from ditto, for Waterford.

The Black Prince Privateer, has taken a Ship from the Baltick, commanded by a Captain Wright, who offered 6000£. To ransom her, but was refused; also a vessel from Lynn to Leverpool.

Lloyd's List Friday January 7th 1780
Such then was the prevailing state of affairs which led coastal communities in the South West to fear for the safety of their property, if not their very lives. A prevailing anxiety which had caused many small coastal batteries to be set up, including at least the one 'private' battery at Prussia's Cove, Mount's Bay.
There is no direct evidence as to when John Carter decided to arm Prussia's Cove with his battery of cannon. But one of the local witnesses giving evidence in the Excise trial of Charles Carter in 1794, stated that John Carter's battery of 6-pounder cannon at King's Cove had been fired during the American War of Independence, and had saved a vessel from the French. This last must have been the episode to which the old lady was referring. It might well have worked to enhance the Carter's reputation as loyal Englishmen but it failed as a mitigating circumstance, and did not save Charles from the due process of law and a very heavy fine.
The Mount Report of 27th December 1779, implies that the chase had been 'en train', having possibly commenced off Porthleven and run along the coast, inside the Wellow and past Rinsey and the Prussia's Cove Battery, inside the Stone and Mountamopus. This coast line is hidden from the Mount, and the combatants were only perceived as they rounded the Eastern Shag Rock at Cudden Point.