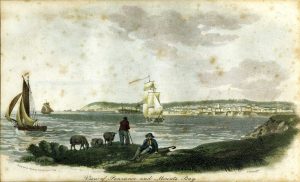 A number of vessels appear regularly in accounts of smuggling and suspected smuggling, in and around Mount's Bay in the late C18. Some were no doubt engaging in legitimate and lawful trade but the boundaries between this and free trading (smuggling) were, to say the least, flexible. Notes on three of them are at:
Smuggling does seem to have been a game of cat and mouse, a running battle between an under-resourced Customs Service and a population which was largely supportive of smuggling. There were many different gambits. The story of Prussia's Cove reminds one that this cove was hidden from view behind Cudden Point, allowing trans-shipment out of sight of the Customs Officers.
Then there was the trick of loading goods for shipment to 'North Bergen' which seems almost a synonym for 'undisclosed destination'.
Eventually, peace with France and the newly formed USA, released additional cats in the form of naval ships and experienced officers, and the mice were forced onto the back foot.