Among the many smuggling myths and yarns of West Cornwall is an enduring one about an incident supposedly involving a Revenue Cutter called Faery off Prussia's Cove, Mount's Bay. In this article, Hilary Tunstall-Behrens who was brought up in Prussia's Cove, explores this yarn and tries to establish the facts and evidence that lie behind the story. Originally published in Maritime South West No 28, the journal of the South West Maritime History Society, it has been adapted here. In the original, Hilary acknowledges 'the help, advice and contribution given by my authoritative friend Tony Pawlyn in my researches'.
HM Revenue Cutter Faery is mentioned in the Carter Smuggling stories, as having taken part in the 'siege of Prussia's Cove', or Porth Knowles as it is sometimes referred to in the Penzance Custom House letter-books, and of having had her boats fired on by John Carter's private battery of Carriage Guns guarding his Cove.
Amongst others the legend has been passed down by John B. Cornish, who in 1894 wrote the Introduction to The Autobiography of a Cornish Smuggler – Captain Harry Carter, of Prussia Cove.
The most famous of the episodes which he describes is of the battery firing on a Revenue Cutter from a point commanding both King's Cove and Bessy's Cove which had in range the channel between Enys Island Rock and beyond, two or three cables to seaward. John Cornish's story follows on very similar lines to that of Baring-Gould in his book Cornish Characters and Strange Events, and a similar yarn is given by the Reverend Canon Coulthard, of Breage, writing about John Carter, in his Worthies and Unworthies. This runs:
His crowning exploit, however was opening fire with the battery of guns which he had erected at Prussia Cove on the boats of the government cutter, Faery. The Faery was in hot pursuit of a smuggling craft, which in order to elude her pursuer sailed through the narrow channel between the Enys Rock and the shore. The Faery, baffled of her prey, lowered her boats in pursuit, and as these drew into Prussia's Cove, Carter opened fire upon them, and beat them off.

Worthies and Unworthies, Rev Canon Coulthard of Breage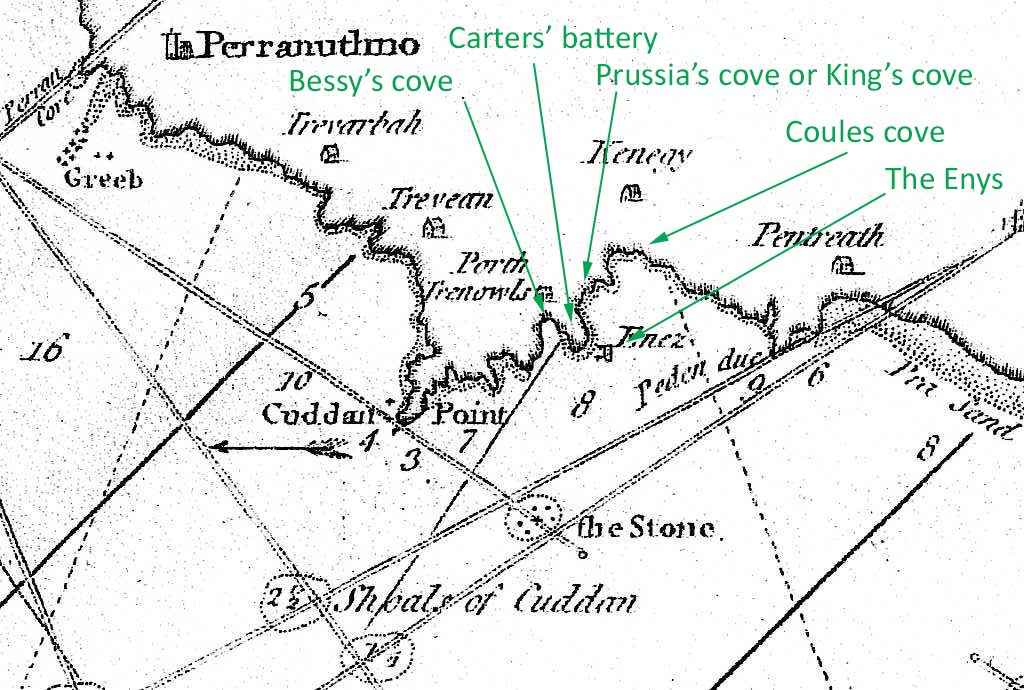 Carter's private battery was emplaced on the low cliff opposite the Enys Rock, on the point overlooking the spot where John had built his thatched cottage in 1770. It provided a very effective defence over this unique series of coves, which comprised a miniature fishing, salt­ trading and smuggling port carved out from the many convenient natural rock inlets or 'zorns'1. Characteristic of this Atlantic coast morphology, these natural features had been cunningly adapted with the technical know-how of Cornish miners. Tin mines abounded in this area, and the Carter family were by tradition miners. Over a generation they had adapted King's Cove into a perfect haven ideally suited for the craft of pilchard fishing and curing, and happily convenient at any state of the tide for carrying on the prolific and riotorious illicit trading for which the family became so famous.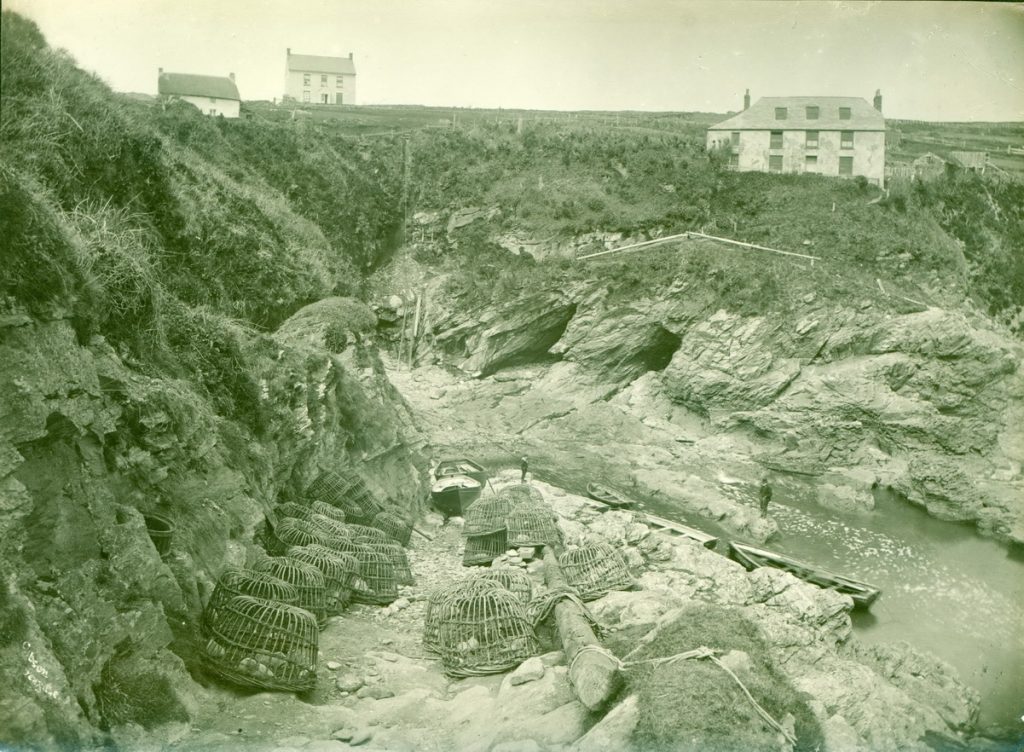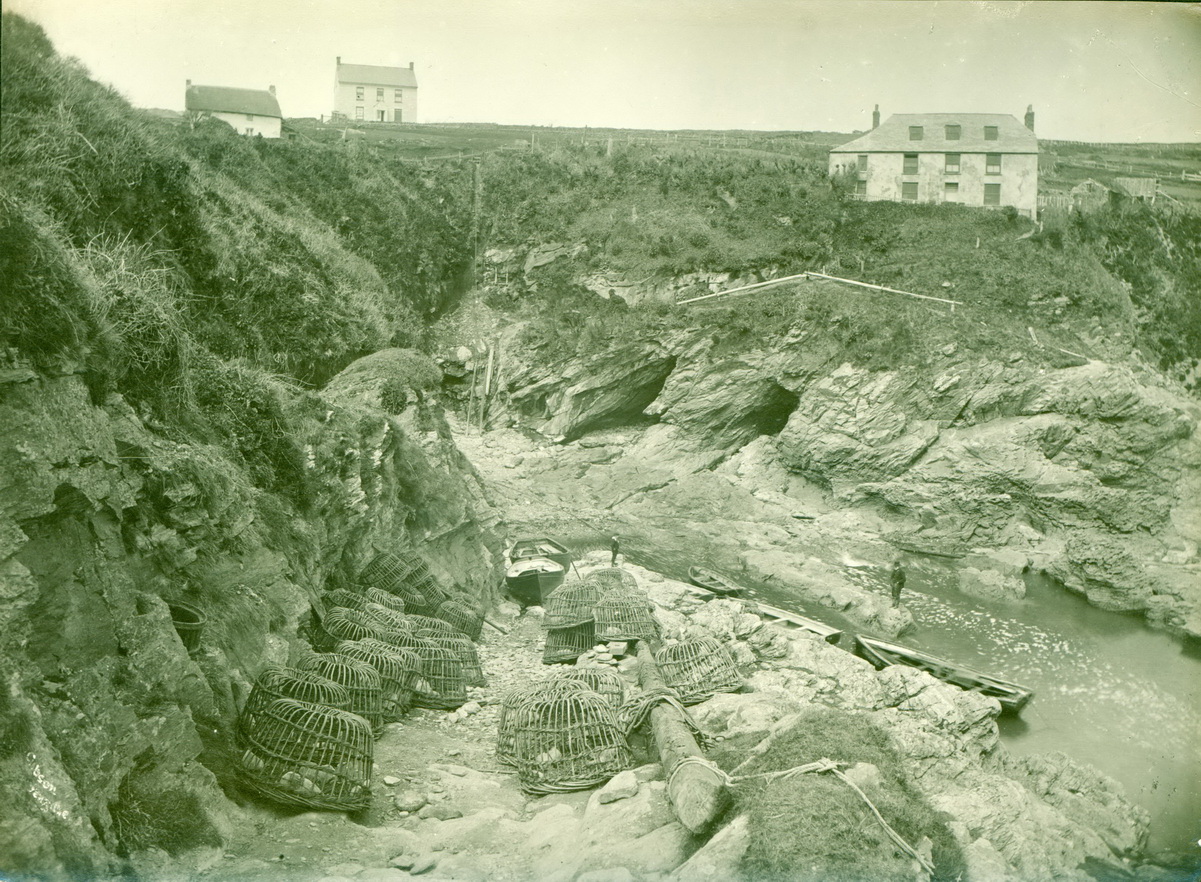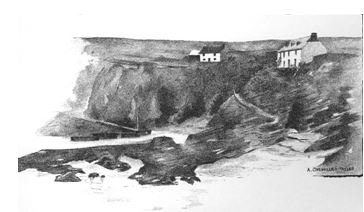 Such then is the essence of the myth, and where there is myth there deserves to be some truth. In the search for evidence of the Revenue Cutter Faery, there proved to be no such vessel, however HM Sloop Fairy proved to have been on station on the South West Cornish coast from 1783-1786, and with the specific orders to suppress smuggling, she seemed the most likely subject of the myth.
Note: in spite of Dr Johnson's introduction of Dictionary English, there was still a very free manner of spelling in the late C18. As much so in the Customs Books and other official documents, as in letters and newspapers of the period. This free spelling of Fairy was clearly judged romantic and fanciful by the nineteenth century authors mentioned and quoted above. I would have liked to use the spelling Faery throughout this treatise but I am afraid to be truthful the Royal Navy Log Books of this Sloop are all clearly spelt in the straightforward boring and quite un-poetic manner – Fairy.