Agatha – 218.PZ : 1878-1903; Agatha – PZ.218 : 1903-1945;
With a hull length of 46.5 feet, the Agatha was a mackerel driver, one of the larger '2nd Class' Mount's Bay luggers that fished for mackerel with drift nets in the spring and early summer of each year, and for autumn herring in the North Sea.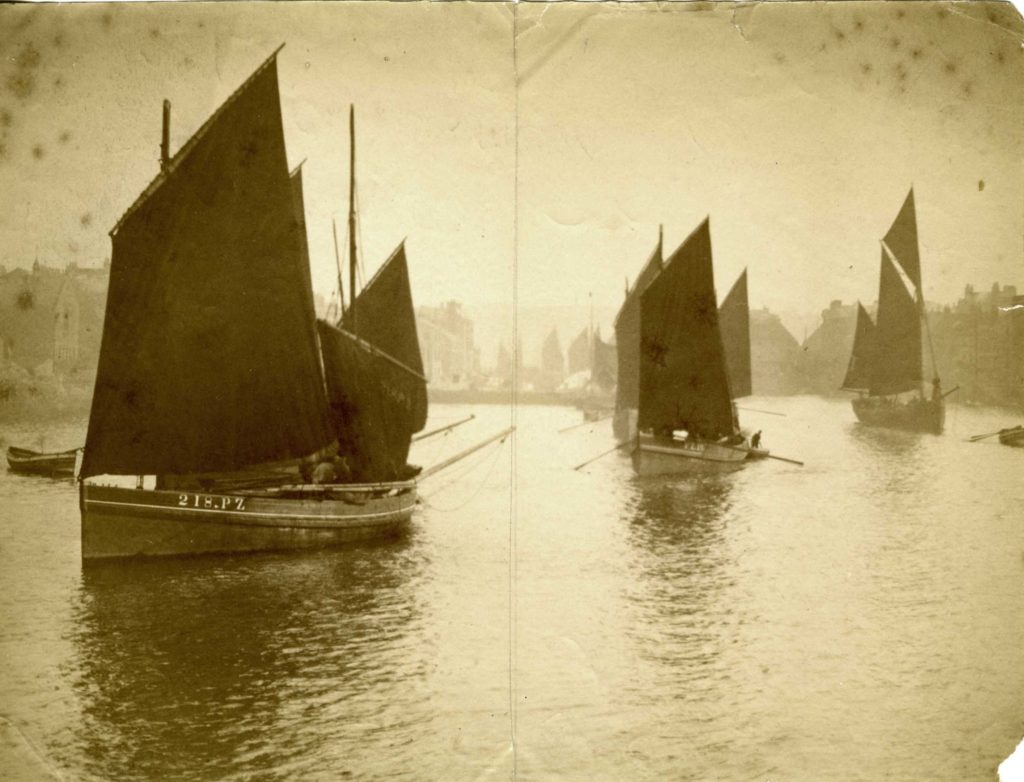 Built at Porthleven in 1878, she first worked out of that harbour in the ownership of Philip Symons, with Richard Pascoe as her skipper. The new boat was registered at Penzance on January 25th, 1878, when, as a 2nd Class boat, she was allocated the fishing number 218.PZ.1
Richard became her owner/skipper in July 1881, but in July 1883 she was in the joint ownership of Elizabeth Symons, John Harvey, and Henry Jacka, with John Harvey as her skipper. 2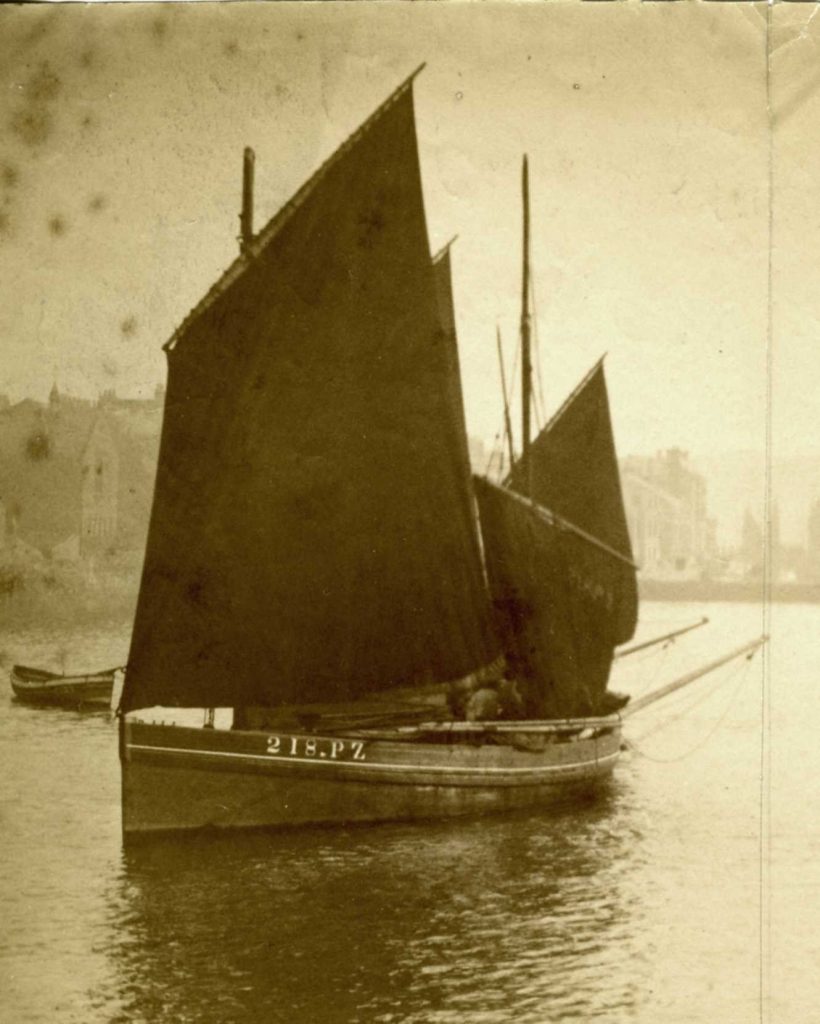 Harvey and Jacka being Newlyn fishermen, that harbour became her base of operations. John Harvey was probably skipper when the above photograph was taken in Whitby. By this period only those luggers with a small cabin for the crew made the long annual migration from West Cornwall to the North Sea in pursuit of herring. This voyage was made in the late summer, early autumn of the year, and might last two or three months – the Newlyn and Mousehole boats usually returned home in time for Paul Feast in early October.
The use of long oars, known as sweeps, was one of the ways the fishermen propelled their boats when the wind was very light. It was back-breaking work. This evening the fishing fleet is setting out in light airs – possibly against a flooding tide. Momentarily the crew of the Agatha have stopped 'sweeping' while they hoist their mizzen lugsail, to catch what little wind there is in the lower harbour. The Mayflower and other craft follow.
It was the practice of the Cornish luggers to carry several suits of sails, of different sizes, to suit prevailing weather conditions when they put to sea. As it is fine weather the crew are in the act of hoisting their 'big' mizzen. Prior to the 1890s very few Mount's Bay luggers carried labour saving steam-capstans, so all hands are required to tail onto the halyards.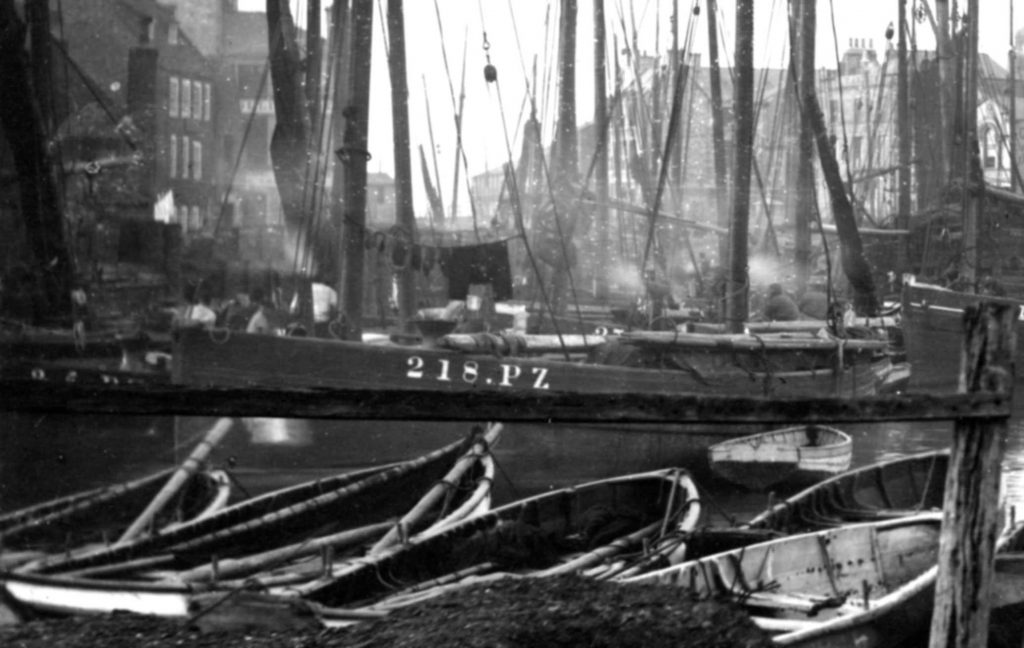 By March 1890, Elizabeth Symons had relinquished her share in the Agatha, leaving John Harvey, and Henry Jacka as joint owners, and on March 15th, 1890, at the commencement of the great spring mackerel fishery, the Agatha was re-measured, when she was deemed to be of 18.22 tons gross and net register, making her a 1st Class Sea Fishing Boat, and her fishing number was presented as PZ.218.3
Still in the ownership of Harvey and Jacka, the Agatha was again re-registered in August 1906, 4 but by then she was nearing the end of her economic life – assuming that she was still fishing, as there were no current endorsements to that effect in this register.
Her end came in 1908.
NEWLYN: The old lugger Mary James, of Newlyn, recently sold, is now being broken up on the beach at Street-an-Nowan.5 The mackerel driver Agatha has been disposed of, and will probably meet with a similar fate.

Cornishman, Thursday, October 22nd, 1908
Nothing probable about it, her fate had already been decided, and her fishing boat register was simply endorsed in red ink:
Cancelled 8/10/08 Broken up.'
| Registered dimensions | 25/01/1878 | 15/03/1890 | 08/08/1906 |
| --- | --- | --- | --- |
| Length of Keel (ft.) | 43.0 | 43.0 | 43.0 |
| Length (ft.) | – | 46.5 | 45.6 |
| Breadth (ft.) | – | 13.4 | 13.6 |
| Depth (ft.) | – | 6.5 | 6.0 |
| Tonnage – tons gross | 14.5 | 18.22 | 26.0 |
| Tonnage – net reg. | 14.5 | 18.22 | 26.0 |
| Number of Crew, men | 6 | 6 | 6 |
| Number of crew, boys | 1 | 1 | – |
Tony Pawlyn
Commenced 18th October 2013. Last amended 2 July 2019.