The patriotic name Emblem was one of the more popular names for Mount's Bay fishing boats, there being at least six Bay fishing boats with this name between 1880 and 1930.
This Emblem was first registered on 7 February 1880 as 117.PZ, a second class lugger working out of Porthleven. Although it has not been confirmed, she was probably built by Bowden Bros., who initially held a financial interest in the boat, together with John Pascoe who was registered as the joint owner. She had a 45ft long keel and was registered as 14.75 tons. she carried a crew of 6 men and a boy.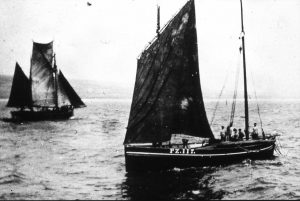 Emblem is a classic Mount's Bay mackerel driver, shown in one of my earliest Mount's Bay lugger photographs which was copied from one of my Great Uncle Willie's glass lantern-slides. It depicted the lugger Emblem – PZ.117 working into Penzance under her big foresail, which is almost a-back against the mast. It's not a particularly sharp image, but the nonchalant stance of the fishermen near the mizzen mast caught my attention. They appear to have just run in the mizen outrigger, the long spar that extended the foot of the mizen lug, as the falls or sheets are still trailing astern. But there is no rush. All is under control.
Her name – Emblem – was a typical one of her generation, reflecting the unashamed patriotic outlook of the Victorian era. The confidence of men as at home on a mighty steel warship, as they were on humble wooden fishing lugger. Given her humble calling Emblem proved quite photogenic, and a number of images of her were captured by a succession of Victorian and Edwardian photographers, in and around Mount's Bay between 1880 and 1912.
Not the largest of the local boats, in size she was one of those marginal mackerel drivers which registered just under 15 tons by measurement when first built. Accordingly she was then designated as a 2nd class fishing boat by the registration rules in force, but this in no way reflected on the workmanship of her builders, her scantlings or construction. She proved a very fine sea-boat, a first class vessel built of the best materials at Porthleven by the celebrated Bowden Bros., in 1879-80. Built for local fisherman John Pascoe, she was a swift lugger, able, so long as the wind held, to run for shore in time to catch the early morning fish-markets, while staunch enough to ride heavy seas and hold her own in all but the worst of storms.
To dispel a popular misconception, the registered tonnage of British fishing boats, and with all other British merchant vessels, was nothing to do with the weight of the vessel – or her displacement of water. It was a notional assessment of the cargo carrying space within a vessel. This space was assessed in terms of cubic capacity, expressed as volumetric tons, and was the basis on which all taxes, dues and levy's payable by the boat's owners were calculated. In the late 1880s, and again in the early 1900s the rules for so measuring fishing boats were modified, and a large number of these fine '2nd class' boats found themselves promoted to '1st Class' boats, with tonnages now well above the 15 ton demarcation. Emblem was one of these, finding herself advanced from 14.75 tons in 1880, to 20.72 tons in 1889, and 28 tons in 1906.
Working out of the confined harbour of Porthleven for the first nine years of her working life, Emblem  was a mackerel driver. A boat able to work a long fleet of drift nets in the Western Mackerel fisher off the Cornish coast during the months of February to July – give or take a few weeks as the natural cycle of the fish varied year by year. Out of the mackerel season, she might also be employed in the herring fishery, either of the coast of Ireland in the summer and early autumn, or later in the year in the North Sea off the east coast of Scotland, Northumberland, Yorkshire. To work the gear necessary for these fisheries she carried a crew of six men and a boy (including the owner/skipper), and to enable these boats to work away from home for months on end, they were provided with basic living accommodation in a cabin down aft.
In the mackerel season the long fleet of nets was attached to a foot-line. A stout rope that ran the whole length of the train of nets, suspended below, and attached to them by short lengths of lighter rope. The foot-line was hauled by a capstan on deck, drawing in the train of nets with it. As built she was fitted with a hand-powered capstan. A device driven manually by two fly-wheels, with handles, working on a cross-head on the capstan. It is one of these that stands beneath the foot of the foresail in the above picture, though the fly-wheels have been un-shipped for convenience.
While working out of Porthleven, she had frequently visited Newlyn, and Penzance, to take advantage of the better markets there, due to their proximity to the Great Western Railway. However, in July 1889 John Pasco sold the Emblem to Sam Deeble Tonkin, a Newlyn fisherman, and this became her home base for the next twenty-three years.
She is not to be confused with the Hicks' larger lugger of the same name working out of Mousehole – PZ.575. Our Emblem is not known to have worked in the North Sea autumn herring fishery, but she did regularly engage on the autumn mackerel fishery on the coast of Ireland. The fortunes of the boats engaged in this fishery varied widely from year to year. In some years the boats fared well, earning a good living, but in others they met with total failure – not even covering their outfitting costs. After such a season, on November 23rd 1905 the Cornishman reported –
'The lugger, Our Lizzie, Messrs. Richards and Worth, which returned last week from Kinsale, shot their mackerel nets out by the Wolf on Tuesday night, but secured only about 90 mackerel.

During Tuesday night the luggers Emblem, Lizzie Tonkin, & Progress returned from the mackerel fishery in the south-west of Ireland. The only other absent boat, the Advance put into Scilly on Thursday, homeward bound from Kinsale. The Irish mackerel fishery has been very poor this year, the most fortunate lugger failed to gross £10 per man, while some boats were unable to earn the expenses incident to the voyage. The majority of the men brought from one to two hundredweight of potatoes each (for personal use) across from Ireland, where good stuff were purchased at 2s. 6d. per cwt. From 40 to 60 salt mackerel each were also brought home, and with the fishermen's characteristic generosity, were shared with their friends at home, as the fish being invariably of very fine quality, are much sought after. The mackerel are, however, hardly up to their usual high standard of excellence this season."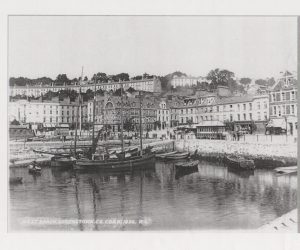 When working on the Irish coast, during the autumn mackerel season, the local boats habitually made Kinsale their operational base. Here there was usually a strong market, giving the best returns for their catches. The boats did not usually venture into Cork, but occasionally, in heavy weather, they put into Queenstown to shelter. It was possibly on such an occasion that the following image of the Emblem was captured – though it looks to be a bright sunny day, and the surface of the water looks quite calm.
Emblem – PZ.117 and another Mount's Bay lugger, moored alongside the slip in Queenstown harbour during an Irish mackerel season – possibly 1896.
There are no surviving records as to how successful the Emblem was, or otherwise, but she was regularly employed throughout her working life. As with all the boats there were occasional reports on their success or otherwise, in the local press. , and even after the great annual influx of East Coast steam drifters in the western mackerel fishery had literally decimated the Mount's Bay lugger fleet, the Emblem continued in service out of Newlyn.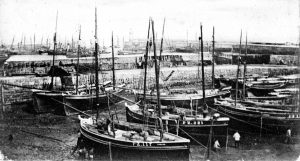 Emblem – PZ.117 and other luggers dried out in Newlyn harbour. Its a Saturday afternoon in the 1903 mackerel season. All hands are working about their boats, carrying out essential repairs and maintenance to their craft, in preparation for another week's fishing. The outer harbour behind them is full of their major competitors, the East Coast steam drifters.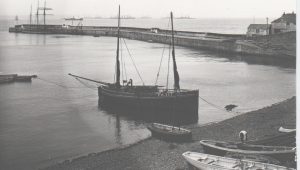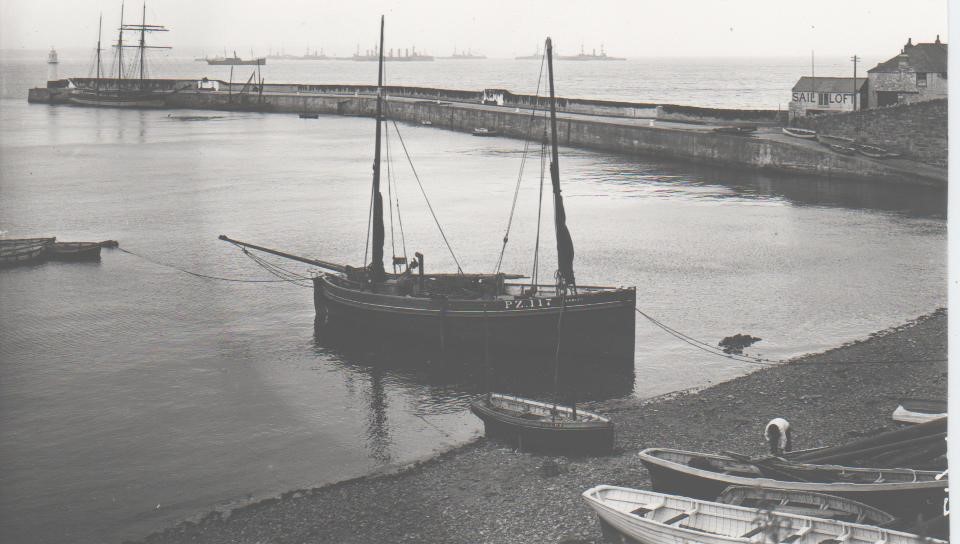 Emblem – PZ.117 drying out in Newlyn harbour c.1910, with units of the British fleet anchored out in Mount's Bay, during annual manoeuvres.
Towards the end of the first decade of the 20th century, it was appreciated that the only way the Mount's Bay luggers could compete with the East Coast steam drifters, in the mackerel fishery, was by the adoption of auxiliary internal combustion motors. However, many of the older luggers were too small to effectively accommodate an auxiliary engine, and Emblem was one of these. In the Autumn of 1911, was sold back to Porthleven owners, when she was acquired by Richard Richards, & William Eddy. However, they did not hold onto her for long, as less than twelve months later she was sold to Falmouth owners, and on August 7th 1912, her Penzance registration as a Sea Fishing Boat was cancelled.
Details
On 07/02/1880 Emblem was first registered as 117.PZ, a second class lugger.[*]
Owners: John Pascoe & Bowden Bros., Porthleven.
03/11/1883 John Pascoe, Porthleven.
Master: 07/02/1880 John Pascoe
On 19/07/1889 she was re-measured, & re-registered as PZ.117, a first class lugger, working out of Newlyn. [*]
Owner: Sam Deeble Tonkin, Newlyn.
Master: Sam Deeble Tonkin
25/01/1894  John Henry Tonkin
02/08/1895 Thomas B. Sampson
28/02/1896 John Henry Tonkin
Undated Sam Deeble Tonkin
On 08/08/1906 she was transferred to a new register. [*]
Owners: Sam Deeble Tonkin, Newlyn.
24/10/1911 Richard Richards, & William Eddy, Porthleven.
Master: 08/08/1906 John Henry Tonkin
24/10/1911 Richard Richards
On 07/08/1912 she was transferred to Falmouth, and her Penzance registration was cancelled. [Her Falmouth registration has not yet been traced.]
| | | | |
| --- | --- | --- | --- |
| Dimensions | 07/02/1880 | 19/07/1889 | 08/08/1906 |
| Length of keel ft | 45.00 | 45.0 | 45.6 |
| Length ft | – | 49.3 | 48.4 |
| Breadth ft | – | 14.6 | 13.8 |
| Depth ft | – | 6.0 | 6.4 |
| Registered tonnage | 14.75 | 20.72 | 28.0 |
| Registered tonnage Gross | – | 20.72 | 28.0 |
| Crew | 6 men & a boy | 6 men & a boy | 6 men & a boy |
~~~~~
Work in progress; Tony Pawlyn : Created January 2016. Last amended 18 June 2019.