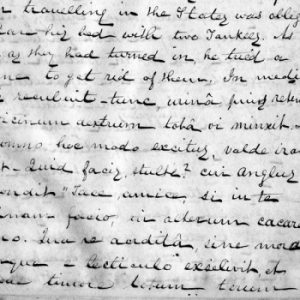 Notes of a Voyage to Jamaica & Carthagena
Sailed 9th March 1833 – Returned 19th June 1833
Absent 14 weeks 4 days
James' twelfth voyage was relatively short and seems uneventful when compared with some of his previous adventures. He did however see a lunar rainbow which prompted him to quote a line from an old nautical saying:

Rainbow in the morning, Sailors take warning;
Rainbow at night, Sailor's delight;
Rainbow at noon, Rain very soon.
Whilst sailing off the coast of St Vincent he seems to be in awe of the beauty of the island, saying that it "formed a picture of rural beauty worthy of the pencil." He also spotted "a lively throng" cutting canes and he comments that the workers "seemed lively in their movements – & presented an apparent scene of happiness utterly inconsistent with your preconceived notions of the misery of the negroes lot." He seems to have been rather taken with this small Caribbean island.
Click here to start reading the journal or download this voyage as a pdf.